Unlocking the Power of Research and Clinical Trials
Our goal is to deliver high-quality studies and establish the cornerstone for patient-centered clinical research in medical and healthcare solutions. We support the development of innovative investigational medicine, treatments, diagnosis, and management of clinical diseases.
Bradenton Research Center: Moving to Find Cures
We have performed hundreds of clinical research projects over more than 25 years. Our specialists are committed to smart research optimization, and patient care management throughout the trial. Clinical studies working in therapeutically and medical-based treatment are backed up with protocols and expertise required to handle any problem that may arise.
Join Us in Our Studies at Bradenton Research Center
Our health is greatly influenced by our lifestyle, genetics, and environment. In order to influence how diseases and illnesses are treated and cured, Bradenton Research Center is working to integrate health, sustainability, and inclusivity in all of our medical research studies. Our volunteers and participants play a pivotal role in achieving our cause: to make a positive impact using tomorrow's medicines today.
Participate in our medical research to better understand your illness, get access to novel medications and treatments, and be part of a bigger health care cause. Contact us today.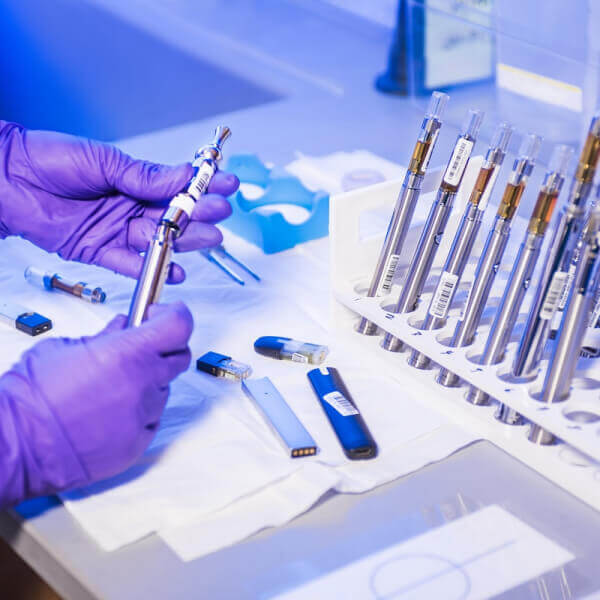 Making Our Process Simpler and Easier
There are no fees required in taking part in our studies or with study-related treatments and offering reimbursements for travel and time costs. We offer a strategic plan of sector knowledge, international compliance, and therapeutic expertise to help make sure that you are not constrained by a lack of innovation. Our strategy is strongly based on extensive project management guidelines and clearer procedures.
Simply complete and submit the form on our Contact Us page.
02. A Researcher Will Contact You
One of our friendly researchers will get back to you to confirm your submission.
03. Participate in a Study
We'll schedule you to take part in a study that is suitable to you.
We are clinical development specialists committed to helping find the most cutting-edge medical concepts and bringing their extensive advancements to patients. Our studies are unique to each program, with processes created specifically to address patients' demands. We now have a solid understanding of what works and what doesn't.
Browse our medical experts' most recent studies and insights.
The way we reshape and create a healthy setting has the potential to have a significant, long-lasting, and general quality of life. We've put ourselves in the middle of it by supporting therapeutic treatment where innovators perform evidence-based research.
Here are some of the most frequently asked questions about what we do.
What is a clinical research study?
A clinical research trial is overseen by an expert medical team that tests a study drug or medical device on volunteers taking part in the study. These tests are done to see whether the study drug or device is both effective and safe for people to use. Every clinical trial adheres to a protocol, which establishes the rules the study must follow. It provides details on the trial's maximum patient enrollment, the testing and procedure schedule, and the study's duration. All clinical research trials adhere to strict rules and guidelines, which are set by the Food and Drug Administration.
How are volunteers protected?
Each volunteer is provided with an informed consent document to help them make an educated decision about taking part in a clinical research study. FDA mandates that all individuals be informed of the conditions of a clinical research trial. The informed consent will contain the following information:
The objective of the clinical trial

The expected duration of the study and the expected number of volunteers

A description of all the tests and procedures related to the study

A schedule of events that will take place over the course of the study

The subjects' responsibilities and prohibitions throughout their participation in the study trial

An explanation of the benefits, dangers, or potential discomforts that might be experienced during the study trial

Details on the experimental treatments

Information about participant compensation

Other treatments that a volunteer may want to consider before participating in a study

The privacy of all volunteers

Each participant's right to withdraw from the study at any time

Potential advantages that a volunteer may get for participating in a clinical experiment
Why are clinical trials performed?
Clinical research trials are conducted to determine whether novel study treatments are safe and effective against certain diseases. Investigational products are evaluated to see how they compare to approved medicines, or to promote treatments that are not easily accessible on the market. Some clinical trials require that the volunteer, study personnel, and doctor be unaware of whether they are receiving the study medicine or a placebo (an inactive substance), meaning some participants won't receive treatment throughout the clinical trial.
What are the risks?
It's possible for clinical research trials to cause adverse reactions that might result in discomforting side effects. Because the treatments being studied are new, the medical personnel and doctors do not always know their potential side effects. Most adverse effects are temporary and go away after medication is stopped, while some side effects could manifest after the course of treatment. All risks depend on the type of treatment used in the study, and the researchers should explain to you any known dangers or discomforts.
Who is eligible to participate in the clinical research trial?
All clinical research studies adhere to guidelines that provide inclusion and exclusion criteria to determine the eligibility of volunteers to take part in the study. Factors include age, medical history, current treatments, and current medical issues. This standard is used to select suitable participants and to ensure their safety throughout the study.
What therapeutic areas are your clinical trials?
Epilepsy

Alzheimer's Disease

Memory Loss

Multiple Sclerosis

Stroke With Spasticity

Parkinson's Disease
What is a placebo?
A placebo is regarded as an inactive drug used in clinical research investigations. In other words, the placebo won't provide any treatment or benefit. To assess the efficacy of a treatment in research, experimental treatments are frequently compared to a placebo.
Will I be compensated for my participation in the clinical trial?
Most clinical research studies pay participants for their time and travel expenses. This information is outlined in the Informed Consent Document that you will receive at your initial visit Payments are made following the completion of each study visit.
Can I withdraw from a clinical research study?
Yes. Every volunteer has the right to discontinue the clinical research they are taking part in at any moment. If you choose to withdraw, you must inform the research team of your decision to stop participating. A follow-up visit will need to be scheduled before discontinuing the study.
Are there any costs associated with the research study?
Most studies don't charge individuals for their participation. This information will be supplied to you in the Informed Consent Document that you will receive on your initial visit.
How qualified is your research staff to conduct clinical trials?
Since 1992, we have carried out more than 150 clinical research studies, and we have won the respect and trust of our patients by providing them with the best possible medical treatment. Our research team has 25 years of combined expertise in both research and medicine, so you can expect a top-notch experience with our commitment to the advancement of medicine.
What are the possible benefits I will get for my participation?
You will get access to consultations with skilled medical professionals, learn about innovative treatments, and help find cures for other patients by contributing to medical research.
Participate in Our Clinical Trials
We are dedicated to building communities where people can live healthy. Our research studies and clinical trials are crucial for the development of future medicines and treatments. With our advanced facility contributing to benefits of clinical research studies, we work with the goal of advancing healthcare and medicine.
Contact us today to learn more about our research studies.